In the next 10-20 years,
58% of financial advisors will be replaced
by software robots and AI.
Frey and Osborne
Oxford University'
The financial services industry, which makes most of its money from non-interest earning transactions/businesses like investment banking, asset management & investment, brokerage commissions & fees, will most likely experience a game changing fall in revenues via technological advances and heightened fee and cost transparency.
.
.
"If you're looking at a real return of 6-7% in stocks then we have every reason to be mindful of any other frictions like taxes and fees that might reduce that return even further.
...the average mutual fund charges 0.9% relative to the average low fee index which charges 0.1%.
That's a 0.8% difference.
It doesn't sound like much, but take a 7% compound annual growth rate on $100,000 and extend that over 30 years. Just how much of an impact does it make? The mutual fund ends up with a balance that is 23% lower than the index.
In other words, the mutual fund could just mimic the return of the index and reduce your return by $150,000.
"Less than 20% of these funds offer expense ratios of less than 0.5%, but more than half charge 1% or more in expenses. More than a quarter of these funds still charge more than 1.5% and almost one in ten charges more than 2%. There's no way that this many funds deserve to be charging this much for their services, especially when you look at the dreadful performance against simple index funds over time."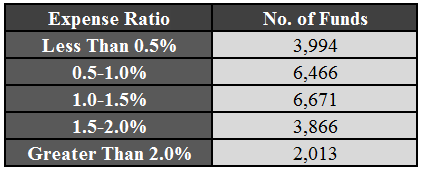 About 80% of all mutual funds could shut their doors today
and not be missed.
If I had to describe them,
I'd use words like Large, Unimaginative, Undistinguished,
Asset sponges
They thrive by never being bad enough to dump
and so, year after year, their numbers swell.
By one estimate, 30% of all mutual fund money
is invested in closet ["active"] index funds
whose strategy and portfolio is barely distinguishable from an index.
David Snowball
Mutual Fund Observer
...There are now plenty of active or quant-based ETFs that can be bought at a fraction of the cost of the active funds you will find in most 401(k) plans.
It doesn't have to be active funds versus index funds anymore.
...It needs to be high cost versus low cost.
...for most retirement savers, their defined contribution plan at work is the simplest way to save and invest.
...I constantly hear horror stories from people about high-cost funds, terrible fund choices, a lack of basic education and overwhelmed and under-qualified people administering them on the company's behalf.
The simple solution for the majority of defined contribution retirement plans is to offer robo-advisor portfolios as the default option. ...putting the average investor in an automated, low-cost portfolio is by far the best solution for the majority of retirement savers.
The entire space is ripe for disruption.
I really hope something like this happens."
http://awealthofcommonsense.com/fixing-401k-plan/
.
.
401k, 457, 403b's and the Federal Government's Thrift Savings Plan
http://hartzman.blogspot.com/2014/11/401k-457-403bs-and-federal-governments.html
Galliard, owned by Wells Fargo, North Carolina Stable Value Fund Transition Update; May 16, 2013
http://hartzman.blogspot.com/2014/10/galliard-owned-by-wells-fargo-north.html
NC State Treasurer Janet Cowell's answer to the following question in 2012
http://hartzman.blogspot.com/2014/10/nc-state-treasurer-janet-cowells-answer.html
"Secrecy in Pensions Triggers Legislative Brawl in North Carolina"
http://hartzman.blogspot.com/2014/10/secrecy-in-pensions-triggers.html
From; NC District 59 Representative Jon Hardister To; NC Treasurer's Office "pertaining to 401(k) and 457 plans"
http://hartzman.blogspot.com/2014/10/from-nc-district-59-representative-jon.html
ICMA Target Date Fund Expense Comparison; Greensboro, Durham and Guilford County
http://hartzman.blogspot.com/2014/10/icma-target-date-fund-expense.html
On North Carolina State's 401(k) and 457 "GoalMaker" Target Date Funds
http://hartzman.blogspot.com/2014/10/on-north-carolina-states-401k-and-457.html
"NC Pension Accused of Pay-to-Play Violations"
http://hartzman.blogspot.com/2014/10/nc-pension-accused-of-pay-to-play.html